Baseball Queensland would like to congratulate Darryl Luchterhand on completing his 600th game for the Toowoomba Rangers.
Darryl's career in baseball is inspiring to say the least, with a love for baseball that runs blood deep, Luchterhand has left his mark on the Ranger's club in a positive way for all involved. Darryl currently plays in the Division 3 competition and ticked off game 600 in the Rangers' series against the Narangba Demons last weekend.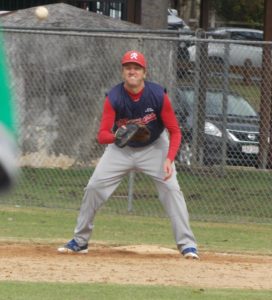 Darryl's journey in baseball started as an A Grade pitcher on the Windsor All Stars team and after his father, Ian, convinced him to take on a player-coach role on the Ranger's A Grade team in 1992, he never looked back.
Darryl credits his All Stars coach, Ted Roebuck for his success and reveals, "I have a lot to thank Ted for and I'm certain what he'd been able to teach me helped the Rangers win the Division One premiership the first time I came to the club."
Luchterhand has coached at the club for many years, specifically involved in the junior developmental programs. Darryl coached his daughter, Taylee from under 14's to under 20's; so it's safe to say the baseball gene runs deep in the Luchterhand family.
Darryl comments on why so many Rangers members are devoted to the club's culture, "I've pretty much been the coaching director at the club from day one and when my dad passed away, it was a natural progression to take over running the club. The camaraderie surrounding baseball and at this club made it a hard sport to walk away from. The friends I've made just through playing at Rangers are amazing. I'm planning on going overseas next year with my wife and catching up with some of the guys who have player for us over the years is something I'm looking forward to. I'm just proud to be able to play for this club and that's what it's about. It's not all about playing on the field. It's about playing for the Rangers' jersey. Players want to get their names on our honour board. That's what it means to a lot of guys. Not just me."
Baseball Queensland would like to thank you for all the time and energy you put into coaching and playing over your journey in Queensland baseball; it's because of people like you that we are able to have the success that we do as a league.