AROUND-THE-HORN: PHIL OVERLACK
Redcliffe Padres Head Coach racks up 750 Divison-One Games
 Welcome to the first article in Baseball Queensland's new series, 'Around the Horn'. The aim of this series is to bring our state organisation closer to the people and communities that connect us all together: our clubs.
Redcliffe Padres, Head Coach, Phil Overlack, truly embodies what it means to be a leader in the baseball community as an accomplished player, well-respected coach and proud family man. Overlack started his baseball career as a young 14-year-old athlete with the Runcorn Indians in 1990. During 8 successful years there, Phil got the opportunity to play in the original ABL for 9 seasons with the Gold Coast Dolphins/ Cougars. Towards the end of his career with the Indians, Overlack took on a player-coach role and was honoured when his jersey number, 20, was retired at the club.
Phil then got the unexpected opportunity to coach the Redcliffe Padres A-Grade team for part of the season in 2014 and the following season Overlack became the official A-Grade coach of the Redcliffe Padres. Overlack hasn't looked back and will be going into his 17th year coaching Division 1 and his 8th year coaching at Padres.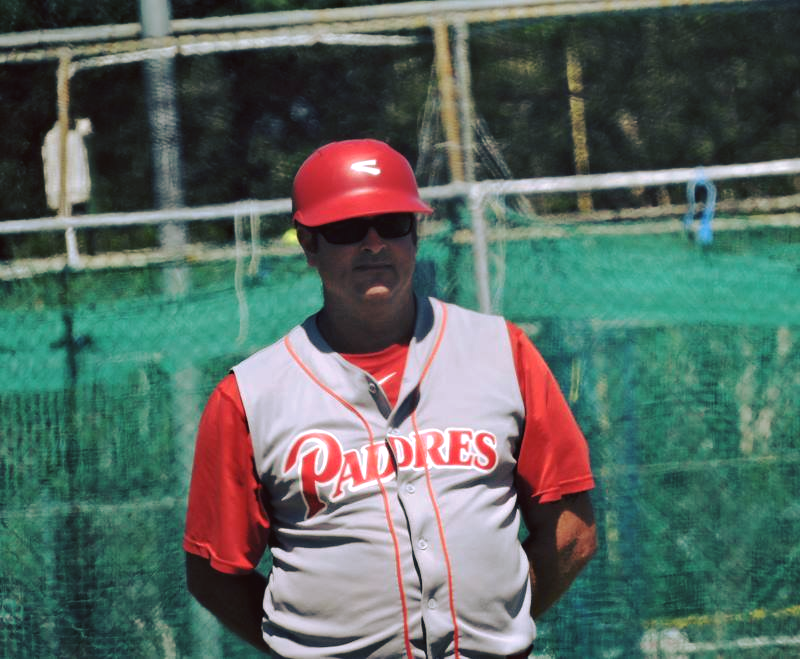 Liv sat down with Phil to discuss his approach to coaching, why development is so essential in the Padres community and what it means to him to have hit the 750 A-Grade Game milestone.
Phil, run me through your journey coaching Div 1 at Padres?
"When I started coaching here we lost the majority of our A Grade Team to other clubs and the ABL, we only ended up with about 3 or 4 players in the end. We were pretty much left with nothing so I just changed my whole view on winning. I thought that we have some of the best kids in Queensland or even the country at this club and I thought that I'd chuck the kids out there. So, 3 years ago we came dead last in the competition and the average age of the players were about 15/16 years old. Then, 2 years ago we made the play offs with the same team and finished fourth, which was a big buzz for them. Last year our team, the same kids I started with, were all 18/19 years old and we fell one game short of making the playoffs. I think we surprised a few people, they thought we were just a bunch of kids but what they don't know is that we work hard in the offseason."
 Non-Padres members might not be aware of the level of development that is implemented at the club, what are some of the programmes that Padres have been
"We run an off-season programme for our athletes, we also have camps for the new Little League players to prepare them for the upcoming season. You know you're doing something right when you have Div 1 players, coaches and parents asking to volunteer at our Little League camps. They never ask to me remuneration, they just do it because they love the club and what we do for their families."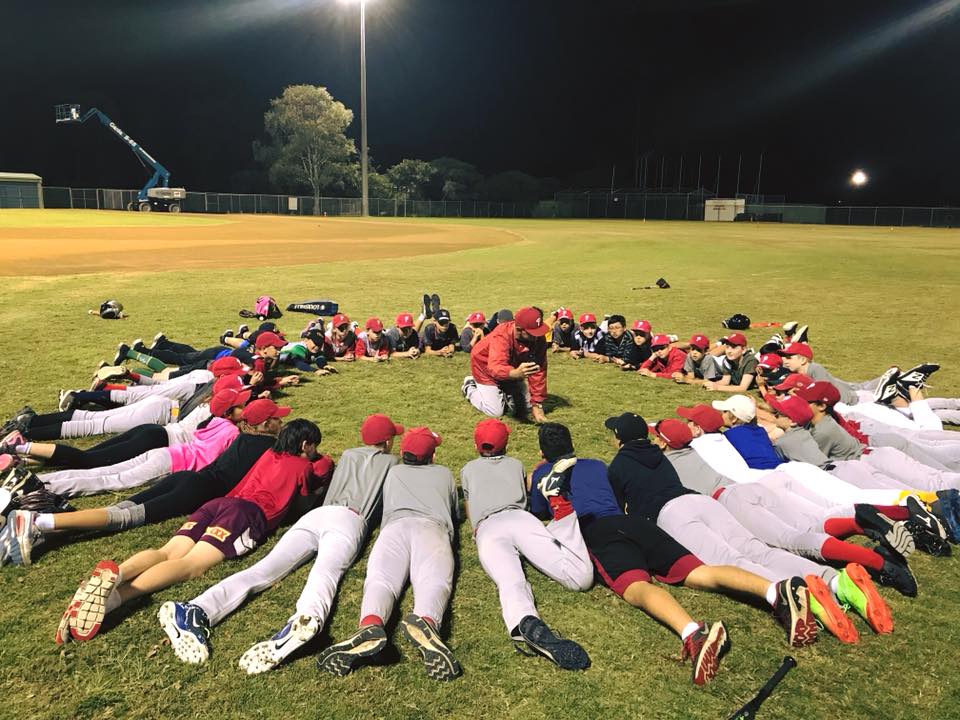 Run me through your approach to coaching?
"Each year I try to pick a few 15/16-year-old kids and make them my prodigies and work on them and so far it's working really well. The kids know that they don't have to leave the club to get a shot, we've lost players in the past, like most clubs do but we are really aware that we have some real talent here. By giving these kids the opportunity, I've now got 6 kids playing college ball in America and the last 2 years we've had 5 of our kids in the Bandits Development programme, so that is big buzz for me knowing that all the hard work we put into them is translating onto the field. If we can bring them up through our system here then hopefully in 5 years time when they're back from college we'll win a couple of championships (laughs).
 A lot of people may disagree with your tactics of putting a young Division 1 team on the field, talk me through the plan of action you have with them?
"We have a really bright future here, maybe we've taken a few steps back but I believe it has payed off for us. I look at other clubs and then back to Padres and I think we've really set ourselves up for the future and secured some longevity for ourselves as a club."
Phil, you've achieved an incredible feat having almost 750 A-Grade/ Division 1 games under your belt. What does that mean for you?
"It makes me feel old (laughs)!! I was 14 when I first started playing baseball and then I started playing A Grade when I was 17. That's probably why I have so many games under my belt. I still love playing, I'd still play B-Grade now but I don't wanna take a kids spot; I'll just fill in if I ever have to! "
Redcliffe Padres are blessed with a tightknit community of families that are dedicated to the club and what it has to offer.
Liv spoke to Sam Holland, former pitcher for the Los Angeles Angels organisation, pitcher for the Brisbane Bandits and local Redcliffe Padres Division 1 Player about his experience with Padres.
Sam, there is no doubt that Phil Overlack is a phenomenal leader, how has he helped you over the years?
"I've known Phil for several years now; actually the first A-Grade game I pitched was actually to Phil, he was my catcher. I started off playing with Phil and then as he moved into coaching I always had a lot of respect for him he played the game the way it's meant to be played: hard, no nonsense and he really just did everything he could to win the game the right way. As a coach he is taking that mentality to our juniors here and those younger kids coming up trying to get them playing to win, not so much just going through the motions; we play to win and we pay hard and we play fair and we do all the right things. Philly has us that way because he has led by example. For me, I watched him play and do those things so it was easy for me to take it all in when he said it to us- we really had no excuse! He's a great mentor to the younger kids, he is a very respected player, he played in the old ABL, he's seen a lot and I think that especially for those younger guys coming in to have someone with such a past in baseball it allows them to stay connected with him, he is still so relevant in the community of baseball. He does a great job of bringing a little bit of the past into the present and passing all the right things down to younger generations. Phil has morals, maybe some people will say that's old school but he really leads by example. He leads a great group of players who are here for the right reasons and you can see that over the last 4 years we've sent a large group of kids off to college. He breeds the mentality of good, hard baseball."
Where do you think the passion comes from? 
"Well, I've been playing here since U12's after moving from a few other clubs and since playing my first game here I've loved it and I'll be here until my name's up beside Landy and Dunsdon (laughs). I guess what really makes Redcliffe such a successful club I think is the community base to it. There are a lot of families involved in this club, the same people have been involved since I was a junior and that really builds a strong base of community. Once you have a lot of people on top in the committee putting in time and dedication going the extra mile to get the grants for the facility, keeping the fields looking tidy while not having a paid grounds crew. The families involved here are what make it special. It's no secret that people move clubs to come to Redcliffe because we have such a strong pathway to success. Padres have helped so many players gain their success in baseball, they've helped me get where I am."
The spirit of Padres has touched the lives of many players, old and new. New Padres player, Sid Daniels, 16, is going into his second season with the club and is thrilled that he made the decision to be part of this close community, "Having only started playing baseball last year I was really surprised with how welcoming they all were to me! A family friend suggested I join Padres to give it a go and I'm so glad that I did!  I've loved playing the game and all the inside jokes I now have with the players on my team; they called me the 'Rookie' last year, it's got a such a fun vibe. The encouragement & support from family members of our team to me was amazing. They always encouraged me & wanted me to play my best; I even got a go at pitching! The time & effort the coaches put in to all the players is so supportive of all of us."
Daniels received the Batting Award at the end of the 2017/18 season and is looking forward to playing in the U18's State Titles this September with Brisbane North. Daniels will be back on the field as a proud Padres member in October for the Greater Brisbane League.
The new baseball season is approaching quickly with the Greater Brisbane League (GBL) commencing in early October. Local baseball lovers or aspiring players are encouraged to get in contact with the club's registrar to find out how they can be involved in a player or volunteer capacity.
If you are part of a baseball club in Queensland and have a story to share, we would love to hear from you; just email Liv at liv@baseballqueensland.com.au to get your story heard! Players, coaches, umpires, families and fans are all encouraged to get in contact!
Facebook: @redcliffepadres
Website: http://www.redcliffepadres.com.au
Email for baseball registrations: registrar@redcliffepadres.com.au
Email for other queries: secretary@redcliffepadres.com.au