Welcome to the third article in Baseball Queensland's new series, 'Around the Horn'. The aim of this series is to bring our state organisation closer to the people and communities that connect us all together: our clubs.
Pine Hills Lightning Baseball Club has been home to many elite and professional ball players in Queensland. With a history that dates back to 1984, the Mitchelton Unicorns, turned Pine Hills Lightning, are building strong foundations for their athletes young and old. Over the past 20 odd years the club has worked closely with the Queensland Government and the Moreton Bay Regional Council to update the facilities and give the club the facelift it deserves.
There is no doubt that Pine Hills is one of the top competitors in the GBL and their 2018/19 Division One squad definitely pack a punch. Filled with strong talent that has been nurtured and developed through the younger divisions, this team is now reaping the benefits of a few key athletes that are now giving back to the club upon their return from college.
Mitch Hughson, 20, graduated from Miles Community College in Montana, Jacob Nilsson, 20 attended Eastern Arizona College and Jeremy Atkinson, 28 graduated from Salt Lake Community College in Utah. The 3 players are now inspiring younger players at the club to stay driven and set their sights on college acceptance.
Atkinson says he was inspired from an early age by one very memorable coach, "When I was younger, my State coach was a man named Luke Prokopec. I think he is originally from Adelaide and he was a real inspiration to me with baseball and achieving my goals."
Pine Hills President, Simon Tame says, "This season we have entered the most teams into the GBL with Div 1-5, 2 masters teams, 2 in U20's, 1 in Senior League, 2 in Junior League, 6 in Little League, 3 in Rookie Ball and 2 in Teeball. We have a real depth of talent in the club from our coaching staff and player development squads. Out Div 1 imports, Stephen and Jared are passing on their skills. We have fantastic looking grounds with over 100k invested from the State Government via the EDQ grants.
We have several 'special' rounds coming up including Paul Mutch Cup, Moreton Bay Regional Council Challenge against Redcliffe Padres and the Army/Air force game against Ipswich Musketeers. We have a lot happening and we would love for everyone to get involved."
Division One Team Manager and Seniors Coordinator, Paul Hardie spoke to me about the benefits that the club is seeing from having college players giving back to the club.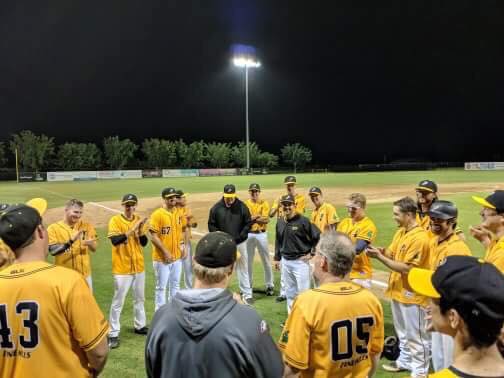 How does the involvement of college ball players affect the Division 1 team?
"The initial 'pain' that the Division 1 team feels from losing some of its better talent from the squad becomes relief once they return! There is a confidence that returning college ball players bring that envelope the squad. They bring good practice habits, new ideas, and a team-first philosophy that becomes infectious. Their skills have improved, their baseball IQ has improved, and their sense of self-belief has improved. All of this translates to a better team and hopefully better results."
Do these players bring a different approach to the game, mentally and physically?
"The positive advantage that we have from returning College ball players is a sense of baseball 'maturity' that didn't exist prior to them travelling overseas. Having had a ball in their hand effectively everyday while at college, and the benefit of many, many extra at-bats or innings pitched, means that they are better mentally able to cope with the demands of Division 1. They have lived an experience that would otherwise take many more years at Club level in Australia. Generally these are young men who, when travelling overseas to college, are having their first experience of living away from home. Their development in physical size and strength, resilience, and experience, is all-but impossible to replicate while at home and they come back better players and more worldly human-beings. They also bring back a knowledge about how best to look after their bodies; arm strength, conditioning, nutrition and overall fitness that means they set a good example for the rookies in the dugout."
 How do the younger players benefit from the college players' involvement?
"A lot of our younger rookies in the Div 1 and 2 squad aspire to follow the path of those before them. You can see them seeking out the guys that have come back to ask for guidance about not just their game and form, but how to get better generally and how to go about building their college application. They build a rapport – a bond that helps our dugout culture and helps make our Club even stronger."
Pine Hills Lighting will host Redcliffe Padres this Friday at 7:30pm and Sunday at 3:00pm; if you are local and want to support your club then get involved at the ballpark!
If you are part of a baseball club in Queensland and have a story to share, we would love to hear from you; just email me at liv@baseballqueensland.com.au to get your story heard! Players, coaches, umpires, families and fans are all encouraged to get in contact!