2018 U16's State Titles Recap
Over the past four days of the 2018 State Titles we have seen some exceptional baseball from our young Queensland athletes. Brisbane Metro came out on top 14-1 with a phenomenal win against the Gold Coast Cougars.
The first three days were extremely competitive for the 7 teams involved with the Gold Coast Cougars coming away with a 6-0 record, followed closely by Brisbane North at 5-1. Each team participated with pride and utmost athleticism in each game and came away with fantastic results, whether it be in the form of a win or a personal achievement.
Day 4 of the tournament saw our top 4 teams play in bronze, silver and gold games.
Brisbane North and Far North Coast battled it out in a fantastic game with Brisbane North taking the Bronze Medal 7-2. Starting pitcher for North, Joel Wilson threw a no-hitter over 4.2 scoreless innings, racking up 7 strikeouts, setting the tone for the rest of the game. Luke Smith had 3 hits during the game dominating at the plate for Brisbane North.  Far North Coast couldn't quite keep up with Brisbane North's smooth teamwork and consequently took 4th place in the tournament, leaving Brisbane North to victoriously take bronze.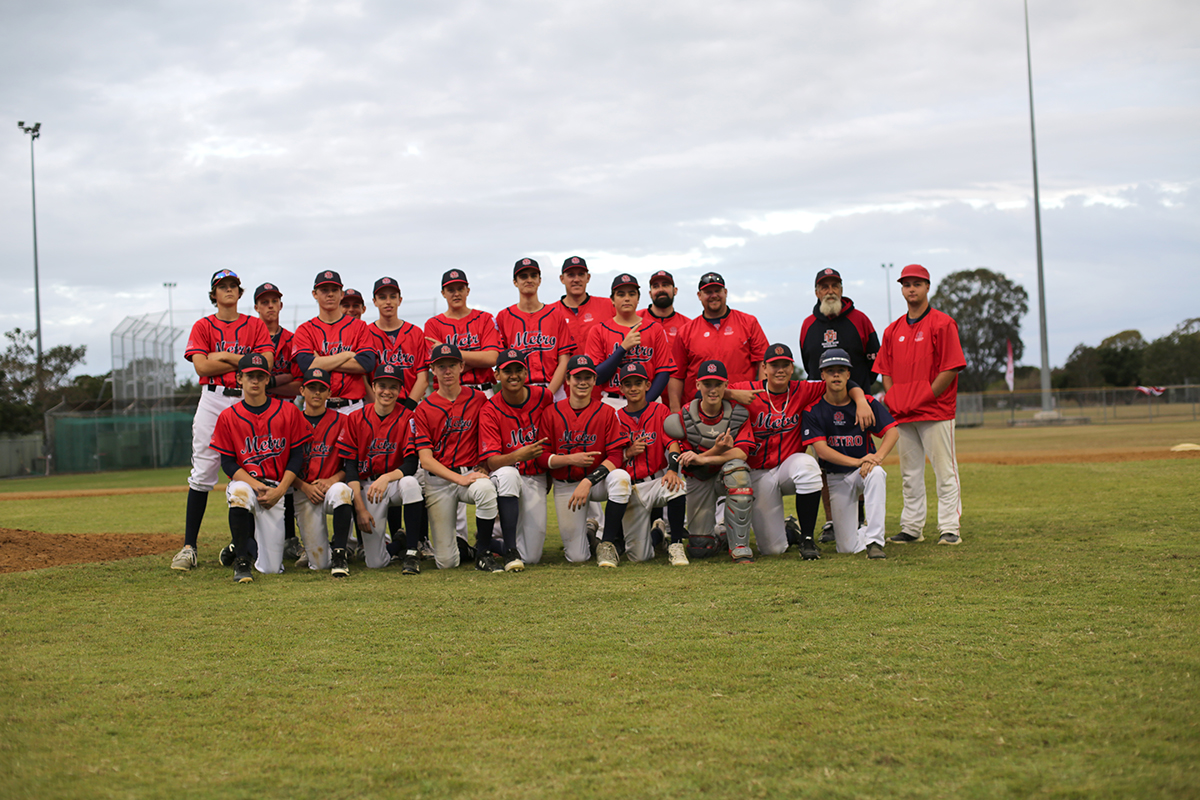 The gold medal game against the Gold Coast Cougars and Brisbane Metro was intense from first pitch with Brisbane Metro showing their dominance both offensively and defensively. The Cougars unfortunately couldn't shake Metro's fierce approach and came away with 3 hits all game, compared to 11 from Metro. Brisbane Metro's, Callum Wallace pitched solidly over 4.1 innings coming away with 5 strikeouts. The Cougar's on-field errors cost them several runs however the entire team kept their composure and class through the 6-inning game. Metro worked closely as a team to coordinate their hitting creating the best possible outcome for their team; Joshua Anthony took the crown for most hits during the game with 3 for Brisbane Metro. The final score was an overwhelming 14-1 win to Brisbane Metro!
Congratulations to all 7 teams involved in the 2018 U16's State Titles, the entire tournament was filled with quality baseball and huge smiles. An extended congratulations to Brisbane North, Far North Coast, Gold Coast Cougars and Brisbane Metro for playing with passion today in your placement games.
Baseball Queensland hopes each and every athlete enjoys a well-deserved rest after a massive 4 days of baseball! Well done!