MORETON BAY REGIONAL COUNCIL SUPPORTING BASEBALL IN QUEENSLAND
MORETON BAY REGIONAL COUNCIL HAS PLAYED AN INTEGRAL PART IN SECURING THE STATE TITLE EVENTS FOR THE REGION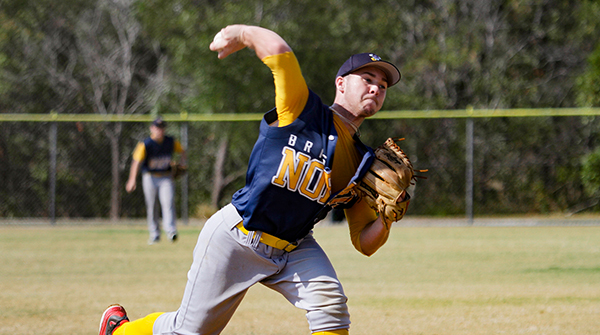 Moreton Bay Regional Council Supporting Baseball In Queensland
Moreton Bay Regional Council has played an integral part in securing the state title events for the region.
A new deal between Moreton Bay Regional Council and Baseball Queensland will see the Baseball State Titles held in Narangba and Kippa-Ring.
Moreton Bay Regional Mayor Allan Sutherland said baseball was a growth sport and he was keen to see it become even bigger in the Moreton Bay Region.
"The combined economic benefit of this major event will see nearly half a million dollars pumped into our region," he said.
"There will be around 300 competitors and officials as well as nearly 500 spectators looking to stay in Moreton Bay, eat in our local restaurants and hopefully extend their stay to explore the region.
"Moreton Bay has a proven track record of hosting major sporting events from the AFL to the Rugby League Commonwealth Championships this year, so I'm thrilled to be adding baseball to our repertoire."
The U16's State Titles will be held on the September 22nd to the 25th at Redcliffe Padres Baseball Club.
Neal Ragau, U16's event organiser commented on the importance of having community clubs host these large events, "As a community club, hosting events like the state titles provides Redcliffe Padres with income that can be re-directed into our club and will have an impact on our players, supporters and visitors.
"We have a wonderful facility at the Padres home ground (Talobilla Park) and it's a great spectator field, so it's a great opportunity to utilise our facility that will benefit players not only from our own club and region, but also those travelling in from other regions.
"The atmosphere that these events bring to our club is phenomenal; it really brings out the true baseball spirit.
"We always like to acknowledge and thank our major supporters without whom our club does not operate; these include the Moreton Bay Regional Council, Qld Department of Sports and Recreation, The Redcliffe Leagues Club and Leading Edge Sports."
Ragau reveals that hosting events like the U16's State Titles requires a larger effort than most would expect.
"To host a tournament like this, there is a huge effort from our club volunteers, committee and sponsors," he said.
"Everything from field preparations to cooking sausages requires someone and we are fortunate to have such as huge support network.
"Each day begins before 7.00am and generally does not finish until late into the night, so being able to share the work load is essential.
"Planning will begin a few weeks out and now that we have hosted a few tournaments in the last couple of years, we do have a number of check lists and programs in place to ensure all runs smoothly."
The U18's State Titles will be held on the September 28 to October 1st at Narangba Demons Baseball Club.
President of the club, Gareth Irving commented on how events like these help out community funded clubs.
"It has a massive impact on the club holding these state titles, showing the baseball and the wider community that baseball in Narangba is alive and well," he said.
"Any sort of player recruitment from hosting these titles would be excellent; the extra revenue helps as well. Most of the preparation [for these events] revolves around volunteers for the titles, whether its grounds crew, canteen or any other various roles."
These tournaments are widely successful with close to 300 participants and officials converging in the Region from all over Queensland and Northern New South Wales. These two events provide athletes with one last chance to secure their spot on Baseball Queensland's Bandits Squad. Both of the final teams will compete in the U16 and U18National Youth Championships, which are held at Blacktown Baseball Complex, NSW in January (specific dates will be released on the Baseball Queensland website).
CEO of Baseball Queensland, Paul Gonzalez stated, "Baseball Queensland would like to acknowledge the continued support from Moreton Bay Regional Council to host the U16's State Championships at Redcliffe Padres, Talobilla Park and the U18's State Titles at Narangba Demons Baseball Field.
"Baseball Queensland will send 160 of our premier Regional athletes to this year's U16's and 120 premier Regional athletes to this year's U18's, showcasing their baseball skills in the Moreton Bay area."
Baseball Queensland would like to direct all teams, parents and supporters to book any accommodation they may require for the event through: https://www.visitmoretonbayregion.com.au/
Regional teams can nominate their rosters by completing the roster form available here and submitting it to do@baseballqld.asn.au by no later than Friday 24 August 2018.
More information regarding the two events can be found on Baseball Queensland's website –www.baseballqueensland.com.au/