Social Media
Social Media is your best tool for advertising, connecting, and expanding your network.
It allows you to build a sense of community among members and stakeholders, promote fundraising efforts and attract sponsors, and provide real-time updates about club activities.
The truth is that Queensland Baseball clubs are well behind competitors on this. There is a single-digit number of clubs in the state that utilise paid Social Media marketing for recruitment, and even fewer that do it effectively. Having pages on their own can work wonders, but paid marketing could be your most effective tool for increasing numbers and getting the most out of your social media.
Check out the eSafety Commissioner's website here for tips, risks, and building a safe culture online.
Number One Rule
Never engage with trolls or negative comments. It doesn't matter how good you think your response is, you have to understand the implications on the branding and image of your club and the example you are setting for your players.
The Value
Social Media's value is highly dependent on execution.
An increasing majority of the population engages with social media on a daily basis. 82.7% of the Australian population have an active social media account. While 25-34-year-olds occupy the largest age group of social media users. [Source]
Some Tips
Regularly update your header images across all of your socials. You'll want this to feature the most important information – maybe it's your Come and Try days, an upcoming club event or important season milestone.

Plan your posts in advance

Seek out someone who would be interested in managing your social media for the club! You might have someone who runs a tech-focused business or a younger person who would be interested in volunteering some time and effort.
The eSafety Commissioner has created an online safety resource covering online abuse, tips for staying safe online and specific advice for administrators, coaches, athletes and parents.
'Traditional' Social Media Platforms
Meta Business Suite (Facebook and Instagram)
The best way to reach the most people on Facebook and Instagram is via Paid Marketing. There is limited organic growth on these platforms.
Meta Business Suite allows you to post to your Facebook and Instagram at the same time. It also means you can control both your Instagram and Facebook accounts from the same App/Webpage. Respond to messages, comments and keep track of engagement with your posts on both platforms in the one spot. You can also schedule posts for the future. (i.e. Draws for each Weekend)
Facebook and Instagram represent the largest share of users.
Facebook posts should almost always have an image or video, try to avoid using text-only posts. (You can't post text-only to Instagram)
Facebook Groups represent an opportunity to communicate directly with your members in a moderated environment (you control who joins and which posts and comments stay or get deleted). However, always be aware that not all of your members will use Facebook. Your youngest and oldest members may be on other platforms, or not on social media at all.
Twitter
The best way to reach the most people on Twitter is via Paid Marketing. There is limited organic growth on this platform without heavily engaging.
Twitter is great for communicating live with your members.
Twitter requires more time and engagement to expand your brand and unless you've got someone dedicated to doing that, you're not overly likely to increase awareness of your club. Twitter is suited to short, sharp, live updates. You're also more likely to gain traction on stories and sharing funny or relatable content.
As with Facebook, including an image or video on a post will also increase engagement/reach of a post.
Twitter can be used as a great tool to engage with influencers and journalists. This might be the platforms greatest value.
LinkedIn
LinkedIn is great for interaction and advertising directly to the business community. Your best bet at finding business partners or even companies that might be interested in entering a corporate team. You might also just find professionals that are looking to get active.
LinkedIn is also great for sharing stories. Business people absolutely love uplifting stories, success stories, and anything positive. Even on my feed, I will see plenty of copy-and-paste stories going viral because that's the kind of content people like seeing.
LinkedIn might be the most underrated of the longer-time social media sites. Don't underestimate the power of the business community. Network, build connections, and share stories and new initiatives.
STreaming and Video Content
Live Streaming
Live Streaming is the most promising sector when it comes to Social Media. You can typically live stream to multiple platforms at once which improves your reach and discoverability.
Streaming your games can provide you with plenty of assets for use on your website, other social medias, marketing campaigns and clips that you can provide journalists that will run stories for your club.
GameChanger also allows you to live stream your games, not just live score! They have a tutorial on YouTube and you don't have to use a phone, you can use an external camera such as a GoPro – GameChanger has a guide for this here. They have a whole support section on live streaming questions, check it out.
The bare necessities for live-streaming games are: 
A stable internet connection

A phone, camera, GoPro, etc. (or multiple if you want to do different angles!)

Decide on a platform (YouTube, Facebook Live, Twitch, GameChanger)
There are plenty of YouTubers at different levels of streaming quality that have guides and equipment lists, so if you're interested, I'd recommend scrolling through some youtube videos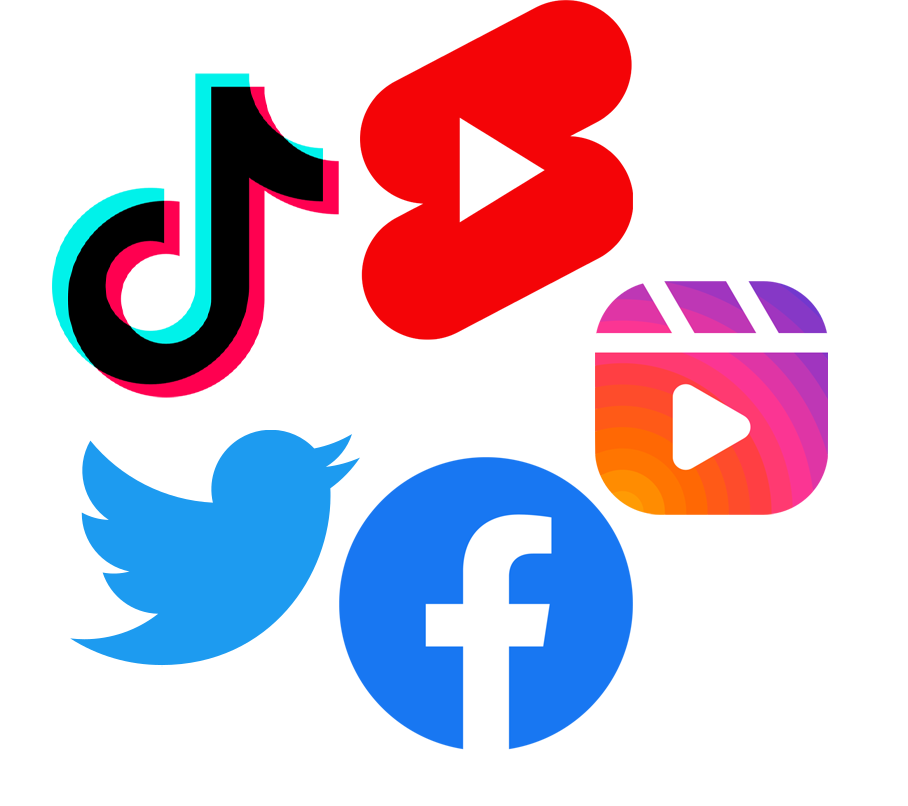 The Short-form Video Revolution
Short Form Video has always done well for advertising. A fact that has its origins in television. Most recently, short-form video content has taken over the internet. Early platforms like Vine, and most recently hyper-popularised by TikTok and since adopted by all major platforms.
You want short-form content to be snappy and to the point. It HAS to be interesting because if you don't engage the viewer in that first second, they will scroll on. Short-form video doesn't need to be professional, in fact, a lot of people will scroll as soon as they realise they're watching an ad and generally the highest quality videos = ads. You want to strive for organic growth on these platforms and for that, you have to be engaging.
You can create a video that can be distributed among all of the platforms. You don't have to create content specifically for TikTok or specifically for Instagram Reels. Use it everywhere.
The Platforms:
TikTok

YouTube Shorts

Instagram Reels

Snapchat Spotlight

Twitter

Facebook
Possible content:
Great Pitching

Great Batting

Great On-field Plays

Funny Spectator Interaction (Bandits Outlaws are a great example, they have a great variety of chants)

Behind the Scenes – "Preparing for Game Day"

Coaching Tips

Comedic Skits
YouTube
YouTube can act as a great database and community engagement platform. YouTube also passively recommends content to users, so there's potential that your videos can be pushed to people at anytime.
Content opportunities include
Game highlights – edited compilations of key moments from a game livestream or recording

Player/volunteer profiles – celebrate success and dedication by profiling (and appreciating!) players and volunteers

Coaching tips – drills, techniques, play progression, etc.

Community event videos – celebrating an event that you held or advertising an upcoming event

Live streaming games

Conducting interviews – post game interviews, volunteer interviews

Promoting fundraising campaigns are also valuable – advertising for upcoming fundraising campaigns, focus on what you're fundraising for

Collaborate with other clubs to expand reach