Recruitment
Your recruitment season sets the tone for your season's success. Plan, execute and evaluate.
Recruitment Manual
As part of the recruitment process, clubs are asked to appoint an Aussie T-Ball Coordinator. The Aussie T-Ball Coordinator is your Recruitment Officer, their responsibilities are laid out in the manual linked below.
The manual is to be completed by June 7th for Summer competition clubs and a copy sent to Game Development (daniel@baseballqld.asn.au) and Club Support (nick.wyllie@baseballqld.asn.au) to ensure that we can support your club to deliver on it's recruitment goals.
The Planner on it's own, as well as templates and other supporting documents can be found below.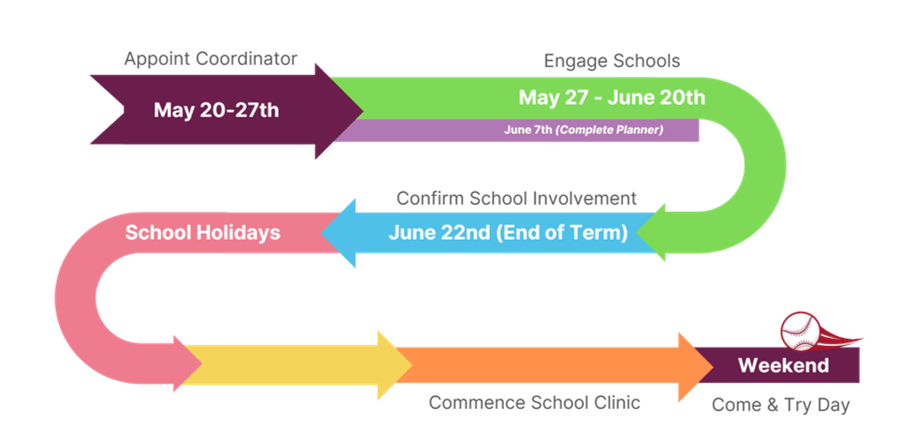 Communications Planner
Determine your communications strategy, paid social media marketing resources included within this document.
FairPlay vouchers are an easy way to reduce the barrier to entry for new players.
Parents, carers or guardians can apply for a voucher valued up to $150 for their child, which can be used towards sport and active recreation membership, registration or participation fees with registered activity providers.

There is a limit of 1 voucher per child per calendar year.

https://www.qld.gov.au/recreation/sports/funding/fairplay/apply
If you are not already registered as an activity provider, follow the information on this page.
If you are registered and you don't know how to redeem the vouchers, follow the instructions on this page.
Information for Parents, Guardians and Caregivers on this page.
Advertising and Community Engagement
Shopping Centre Displays or Information Stands
Approach local shopping centres to setup an information table/stand in a high traffic area.
Staffed by members in club uniforms, all ages, sizes, genders. Demonstrate that your club is for everyone.
Build a list of people to contact, and push everyone towards attending your next Come and Try day.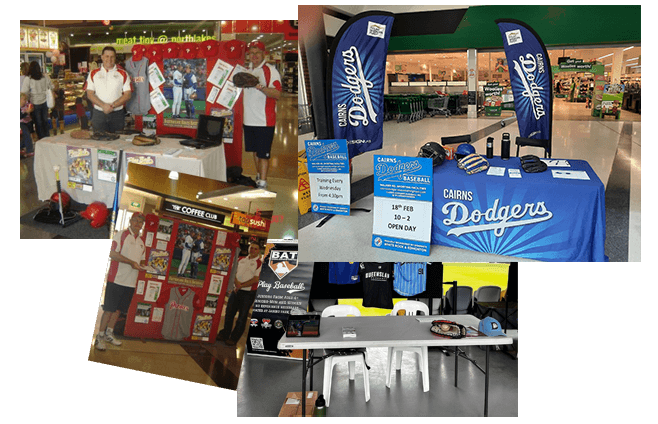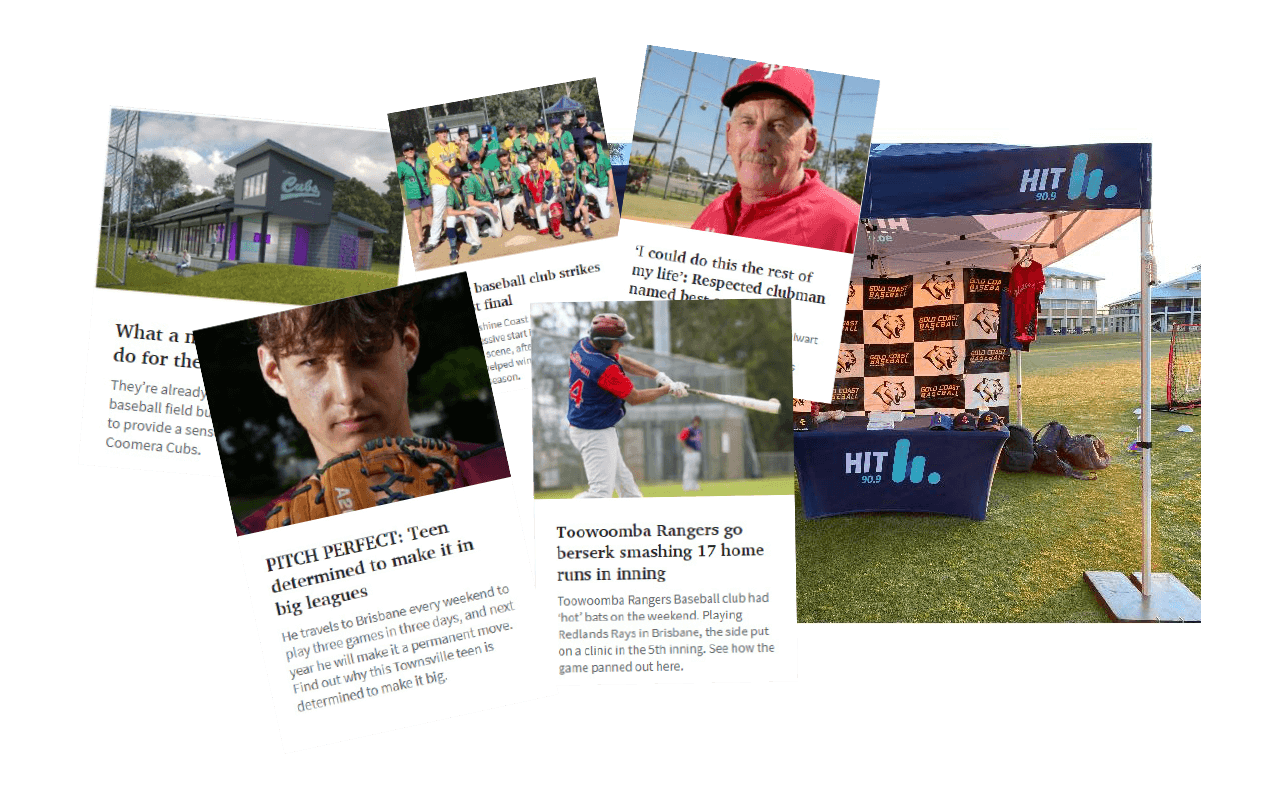 News Media
Present a story about your club, a team, your players. A "human interest" story.
The media typically only pick up stories that evoke emotion in the reader/viewer.
Radio ads also need to stand out and lead directly to a conversion event. i.e. a Come and Try day. You don't want radio ads to be for something happening in 2 weeks, no one will remember. Radio is for more immediate call to actions. "This weekend @" "Come and Try tonight/tomorrow @"
View the Traditional Media page for more information.
Engage your local Politicians
Politicians with active social media presences are usually happy to post about your club, it can be included in their EDMs or a post on their websites.
Politicians at all levels, council, state and federal can usually provide support in some capacity to your club. Whether it be adveritising or sponsorship. Make sure to build those connections, with both the sitting and oposition members.
Markets, Fairs, Fetes, Festivals and Sports Days
Every community has their own local events, whether it's a farmers market or the local school hosting a fair or sports carnival.
Approach local events, organise to hold stalls – purely informational or host an activity.
You could use a radar and test peoples throwing velocity. Organise an inflatable batting cage, test throwing accuracy. Organise a prize for the fastest throw throughout the day – create a contact list and encourage people to attend a come and try day.
There are plenty of ideas, from a simple table with banners and information to a full setup with activities. Do what you can. Stand out.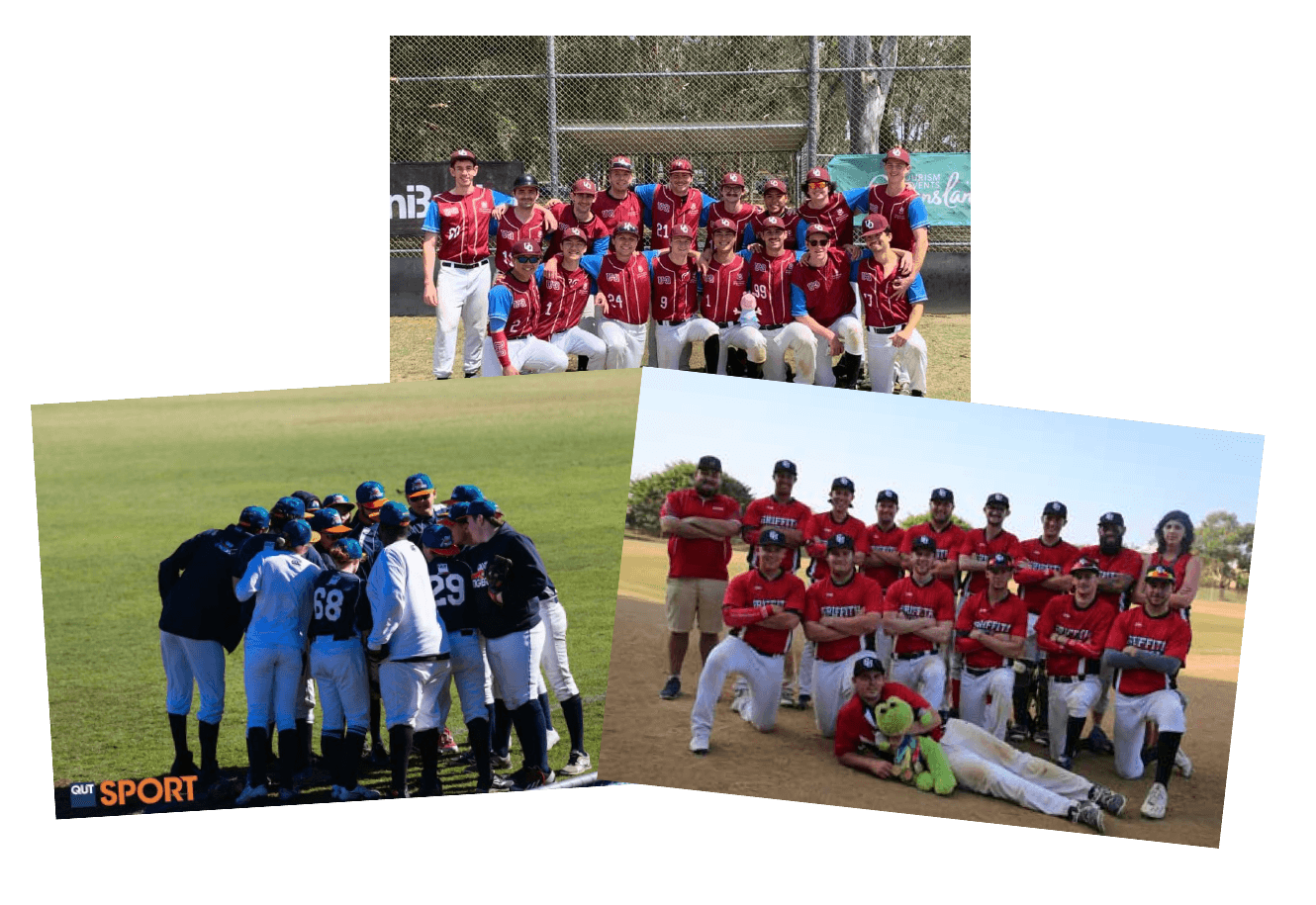 Linking with Universities
QUT, UQ and Griffith have all entered teams into the SQWBL.
Universities concentrate an extremely large number of people across a variety of stages of life. Start a discussion with your local universities sporting department, develop a working partnership, work towards attending uni events throughout the teaching period.
See if they will advertise your club leading into the season.
There is a lot of potential with universities – they might have students willing to umpire, score, play, do photography or live streaming, content production. The possibilities are endless because of the concentration of disciplines and ages.
Social Media Marketing
Your facebook and instagram pages won't organically reach people unless you can get all of your members to share your posts. (organic meaning free) You will need to start doing paid advertising.
Run these in the lead up to your season and whenever you need extras. (i.e. Womens, T-Ball, etc.)
View the Social Media page for more information, or use the Paid Ads Guide linked towards the top of this page!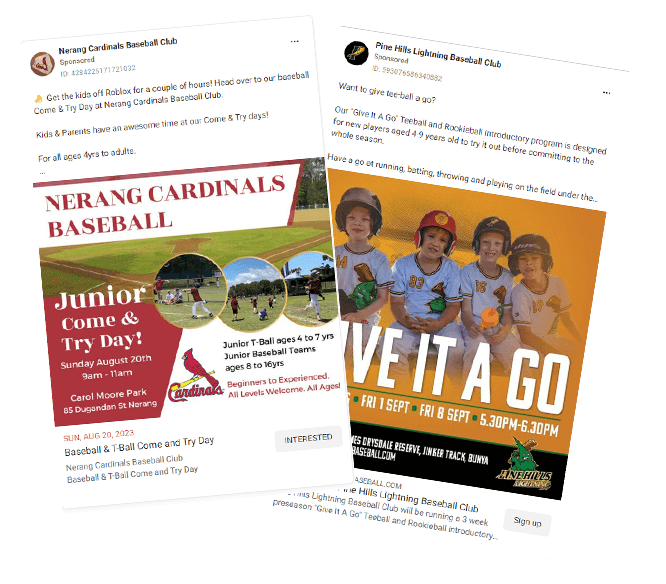 Come and Try Days
The standard.
The first impression is everything. Make sure you, your facilities and your field are presentable. Have engaging, outgoing and fun people representing your club and demonstrate the level of care, community and fun available at your club.
Run stations with drills, do skills tests, have a game of Baseball5.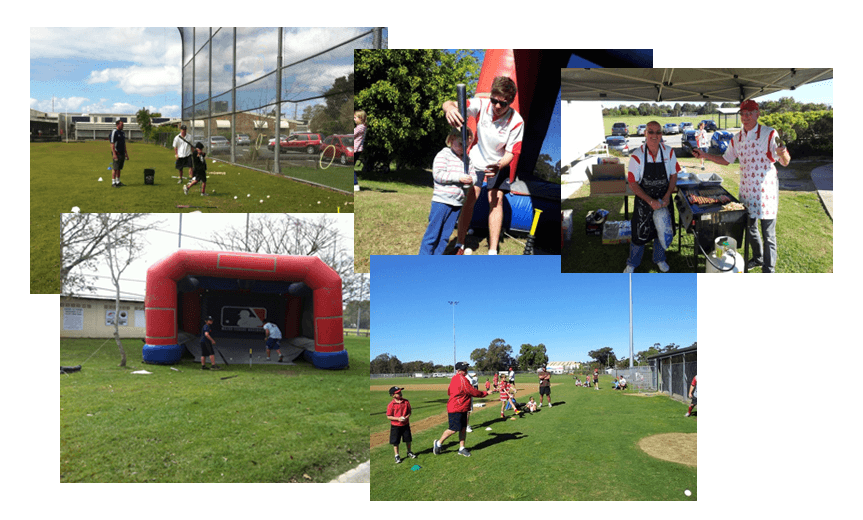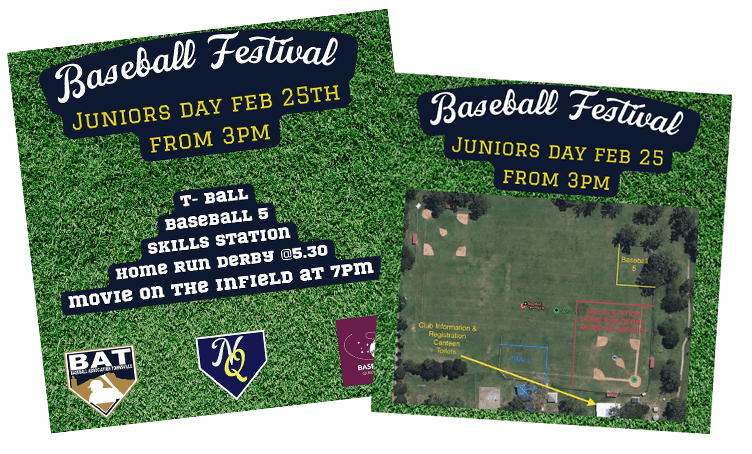 Pre-Season Carnivals and Competitions
North QLD do this well, in 2023 Townsville hosted a Baseball Carnival, this featured Aussie T-Ball, Baseball5 and Skill Drills at their Jabiru Park facility.
They also do pre-season games, it allows teams to start working together and coaches to start learning where their players excel.
This can also be a good introduction for new players to understand how the game works and what they can expect.