The Baseball Queensland Board of Management have consulted broadly within the baseball community and our key stakeholders to identify the direction, objectives and vision for the organisation for the next three years.
You can read a statement from our Commissioner, Mr. Chris Norrie introducing the plan here >>> Strat Plan Memo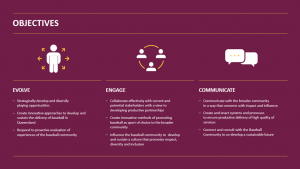 You can access the complete Strategic Plan at this link >>> J000865_BQLD Strategy Plan_FA
On behalf of the Board of Management and Staff of Baseball Queensland, I look forward to working with you all to achieve these goals for our community and our sport. – Gareth Jones CEO.